Shopping Basket
Your Basket is Empty
There was an error with PayPal
Click here to try again
Thank you for your business!
You should receive an order confirmation from Paypal shortly.
Exit Shopping Basket
| | |
| --- | --- |
| Posted on 27 August, 2012 at 9:39 | |
Roof maintenance is very important to promote a long lasting roof. An effective roof is critical to the overall protection, insulation, security, and fiscal investment of a home. Neglect to this vital part of a property can result in significant damage and costly repairs or needed replacement. The type of roofing material utilized has influence over the best maintenance strategies to promote optimum roof condition. Regular inspection, cleaning, and other tactics will help keep the roof operational as long as possible. 
Inspecting the roof periodically is one of the first steps for proper roof maintenance. Inspections are particularly important in late autumn and early spring. Visual inspections should analyse for loose, missing, or broken slates, cracked tiles, and frayed edges. If applicable, flashings around roof openings such as skylights, chimneys, and vents should be given special attention. 
Proper cleaning of the roof is some of the most regular preventive care activities that should take place. The accumulation of dirt, leaves, and debris should be periodically removed to minimise deterioration of the roof. The accumulation of snow is especially problematic for certain types of roofs in the winter and this should be attended too before it overburdens the structural integrity of the roof. 
Gutters should be regularly cleaned and have debris removed from them, this can help prevent water build up and blockages that can lead to bursting gutters and possible flooding. Trees that are in close proximity to the house should have branches trimmed that may pose a threat to the roof in high winds, this tactic will also help prevent leaves, dirt and tree sap from further clogging up the roof. The actual branches can damage the roof if allowed to.  
Moss, lichen and algae on a roof disturbs the flow of rainwater across the roof surface. Growth thrives where the supply of moisture is best and establishes itself where the slates overlap especially along the lower edge, the tail end, of the slate.During heavy rain, the lap cavities will overflow inside the building. Most roofs have a notional second line of defence in the form of a bituminous felt, but it does not always perform perfectly and is not designed for long term protection.The battens and fixings, situated above the felt undergo accelerated decay. Moss release small amounts of organic acids that are corrosive to metal, particularly the lead and zinc used in soakers and flashings.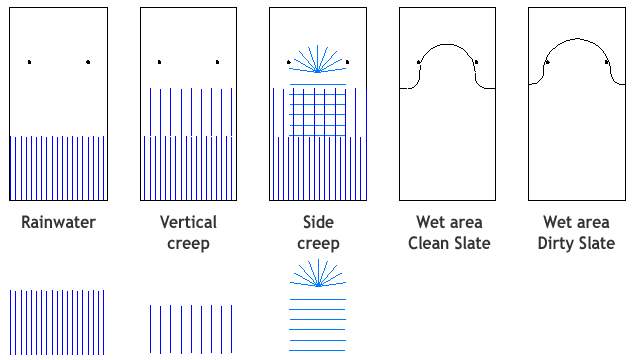 As I've touched on before in earlier posts, roof cleaning should be done using specially developed soft washing techniques and without the use of any type of pressure washer. Using insured and experienced roofing contractors who know what they are doing is strongly advised.
Proper maintenance of your roof can save you thousands in the long run, all materials have an expected lifespan but this lifespan is greatly reduced due to a lack of maintenance.
We offer services that help cover all areas of roof maintenance from snow guards to low pressure roof cleaning. We also provide inspections to identify any weaknesses and these are given in detailed reports with pictures and are completely free to most homeowners!
Give us a call for more info or advice. 
Categories: Roof maintenance
/